South Carolina State Senator Mia McLeod was in North Augusta Saturday night to promote her bid for governor in this year's election.
The Bogus Hill landing hosted the Democrat from District 22 on May 14, a month before the state's primary. McLeod was finishing a three-stop series of Beaufort, Aiken and North Augusta that day.
About three dozen people turned out for the barbecue-style campaign stop, many wearing green T-shirts advertising the Landing's June 19 event next month. A woman in pink sported a rhinestone "Mia" mask.
"I believe that public education, workforce education, and health care – access to affordable, quality health care – are the gateways to economic freedom and economic opportunity" , said McLeod. "And those are things that we should all have. You shouldn't need to be someone who knows someone to count in this state. South Carolina should be a place where we can all thrive.
"When she talks, we listen," added State Rep. Bill Clyburn, D-Aiken, who also visited the landing on Saturday.
McLeod used her 20 minutes on the podium Saturday night to highlight the record she built in 10 years split between the two houses of the South Carolina General Assembly. McLeod was first elected to the state House of Representatives in 2010 and to the state Senate in 2016.
"I am the candidate who has always been willing and able to put my actions where my words are," she said.
McLeod takes on former congressman and fundraising leader Joe Cunningham, Carlton Boyd, Calvin "CJ" Mack McMillan and William "Cowboy" Williams in the June 14 Democratic primary.
Republicans will also choose their gubernatorial candidate on June 14 with a choice between incumbent Governor Henry McMaster and political newcomer Harrison "Trucker Bob" Musselwhite.
McMaster is South Carolina's longest-serving governor, and the state hasn't elected a Democrat to the governorship since Jim Hodges in 1998.
In North Augusta, Senator McLeod spoke openly about her own background as a point of reference for her politics. She spoke at length about her diagnosis of sickle cell anemia and revisited that diagnosis on Saturday.
"I know what it's like to have a chronic illness," she says. "And when I quit my good state government job and my good state government health insurance benefits, I quickly found that, like so many in South Carolina, I couldn't pay monthly health insurance premiums higher than my mortgage."
McLeod said she wanted to expand Medicaid and said it "would be a tremendous boost to our economy."
McLeod said she also supports raising the state minimum wage to $15 an hour and investing more in public education and workforce development to encourage South Carolinians to stay in the South Carolina economy.
The state's "best and brightest" young people, including her two adult sons, are leaving the state because they see higher pay and opportunities elsewhere, she said, adding that the solution begins with education.
Teachers need higher salaries, smaller classes and fewer tests, she said. "We need to provide them with the resources they need to succeed, because guess what? If they don't succeed, our children don't succeed.
McLeod also incorporated into his speech the South Carolina Fetal Heartbeat Bill that Governor McMaster signed into law last year and is now stalled in court.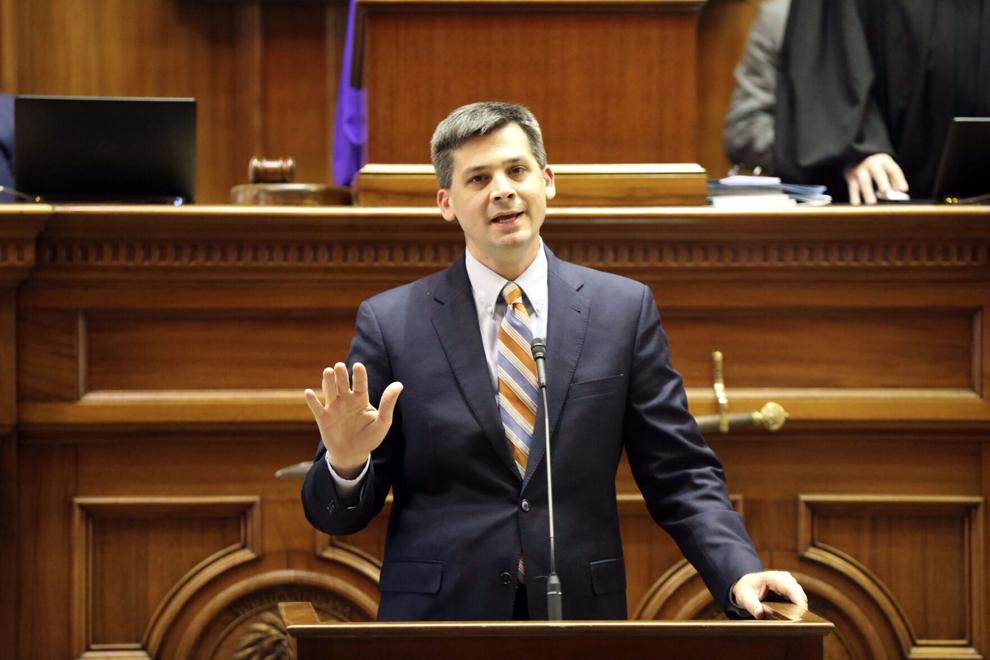 "These women and girls who are forced into childbirth never break out of these vicious cycles of poverty," McLeod said. "And the very programs and services that are supposed to help them raise these children, help with child-raising costs, childbirth costs – the government can give up and say, 'Wait! I just want you to have it, I don't care.'"
McLeod's response to the Fetal Heartbeat Bill at the time had been to introduce the "Pro Birth Accountability Act" which she said would "compel the state, in cases of forced births, to cover the costs of conception at University".
McLeod pointed to his main opponents, saying they were men who said a lot but did not follow through on their promises, then spoke again about his own experience in state government before retiring to the grass and joining his followers for fried fish and music.